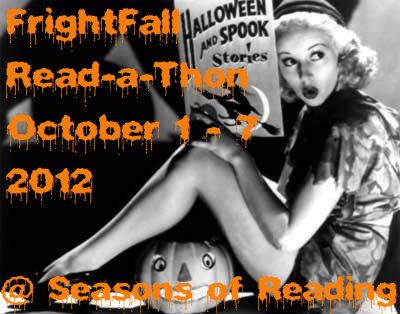 It begins. Sponsor Michelle emphasizes that FrightFall is to be "a week of relaxed reading during which we can personally challenge ourselves and whittle away those ever looming TBR piles/shelves/libraries." Today, the mission is to place a stake in the ground to mark our beginning positions and list goals in the form of reading lists. Since FrightFall officially began at midnight, and I was still awake and reading, I marked my current location and that's where I'm starting.
My current book is The Outlaw Demon Wails by Kim Harrison. It's got witches, demons, vampires, weres, pixies, and elves—not to mention a kitten, a Siamese fighting fish, and a tankful of sea monkeys. I think that's probably scary enough to meet the requirement for the read-a-thon. Oh? Did I mention that the story also takes place the week of Halloween? Now, this novel is book #6 in Harrison's Hollows series set in Cincinnati and starring witch Rachel Morgan. There are 10 books currently available and #11 is due out in January.
Now, when we talk about TBR stacks, there are several of them at my house. There are the BookCrossing books which I have committed to mail to book swappers at the BookObsessed forums and the books that I'm simply eager to read—most of which are in series which I have been enjoying. Since I have a couple of looming due dates, I'm going to focus on the first set, the owed TBRs, during this read-a-thon. That means you are likely to see me starting Academ's Fury by Jim Butcher, Dream Called Time by S L Viehl, Blood Bound by Patricia Briggs, or The Demon You Know by Christine Warren. All from the fantasy, science fiction, and paranormal genre, and the paranormals should meet all criteria for "scary" stories.