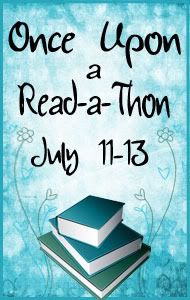 One of my reading friends posted online that she was going to participate in a "new" read-a-thon—one other than the Dewey's Read-a-Thon that we've participated in twice a year for a while. I hopped over to check it out and found that Lori, Angela and Candace are sponsoring a 3-day read-a-thon where participants are encouraged to "read, read, and read some more" from 12:01 am on July 11th to 11:59 pm on July 13th.
I can't possibly pull all-nighters for the entire time of the read-a-thon, and I do have to work next week, so my one way I'm going to participate will be to decrease the amount of my non-work time that I spend online and dedicate that to reading. And, in addition to spending more time reading, I'm using the read-a-thon to motivate me to post more to this blog.
So—now that I'm here making a post in this blog, I suppose I should say something about the books I have been reading. I lay abed this morning until I had finished reading Tall, Dark, and Wolfish by Lydia Dare. It's the second of four Regency romances with a werewolf theme. I immediately logged this book—the 81st one I read this year—and then started reading the next one in the series, The Wolf Next Door. I also stopped by the Public Library to pick up a copy of Dead and Gone, the seventh Sookie Stackhouse book by Charlaine Harris.
And, while I'm hanging around Blogger, I guess I ought to post some updates on the various reading challenges. After all, the year is ½ over and I should be at least half-way along in these challenges. Right? And if I haven't completed half of the challenges, I need to put some plans in place to catch up before it's too late to complete them.